Is Toxic Methanol in Your Hand Sanitizer?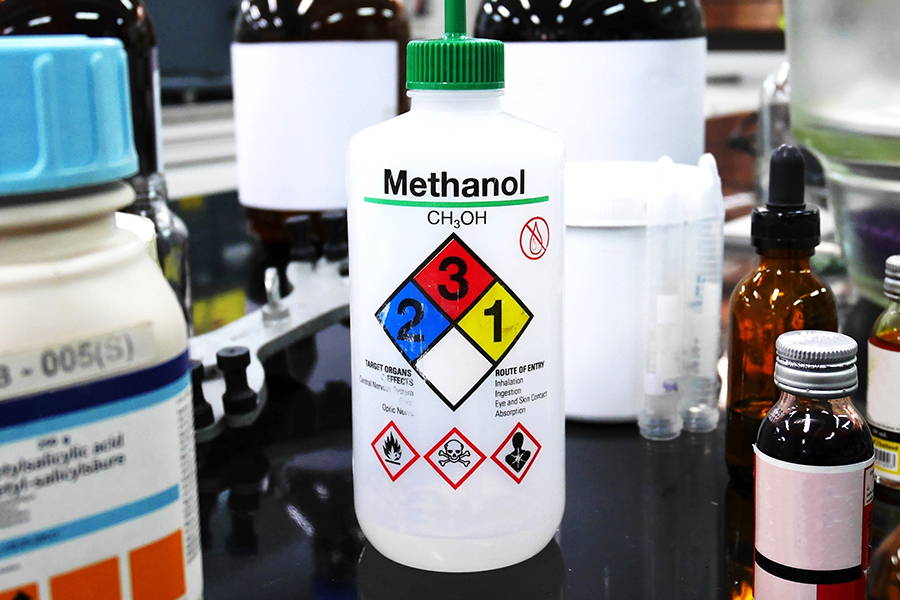 HAND SANITIZER RECALL DUE TO METHANOL
In June 2020, amid the Coronavirus pandemic that greatly increased the need for hand sanitizer worldwide, a large recall of certain sanitizer brands was recommended by the FDA (United States Food & Drug Administration) due to the potential presence of toxic methanol.1 Some of these were sold at Costco, Walmart, and other large retail chains. These products were labeled as containing ethanol (AKA ethyl alcohol, a safe base for hand sanitizers), but instead contained toxic methanol. As of July 23, 2020, ten deaths have already been linked to methanol in hand sanitizers.2
Also known as methyl alcohol or carbinol, methanol is a wood alcohol that is toxic when ingested (swallowed), inhaled (breathed in), or absorbed through the skin. The FDA officially warns consumers against using hand sanitizers that contain methanol. Very small amounts of methanol may be present as a residual impurity in certain alcohol-based products, but the maximum allowable content is 0.5%. Any product that contains more than 4% methanol must be labeled as "poison" in the United States.3 One particular brand of recalled hand sanitizer contained an extremely poisonous 81% methanol.
According to Methanol.org, methanol is converted into formaldehyde when ingested or absorbed into the human body.3 A known carcinogen, formaldehyde is then converted into another toxic substance called formic acid, which can lead to brain damage, blindness, and even death. Importantly, Methanol.org states that serious harm or death can occur from as little as 1-2 tablespoons (10-30 mL) of methanol ingestion or exposure. A typical hand sanitizer dosage is about 1/2 teaspoon, which means that toxic levels of methanol can build up in as little as 3 uses depending on the formula.
This is particularly dangerous for healthcare workers or anyone repeatedly using hand sanitizer throughout the day, as the illegal methanol can quickly build up in their system. This is why the FDA and the EPA (United States Environmental Protection Agency) does not approve of methanol in hand sanitizer products or other household disinfectants.
According to the FDA, "Substantial methanol exposure can result in nausea, vomiting, headache, blurred vision, permanent blindness, seizures, coma, permanent damage to the nervous system or death."1 The risks are highest for young children who may accidentally ingest the hand sanitizer, or for adolescents and adults who intentionally ingest sanitizers for their alcohol content. No amount of methanol is permitted in hand sanitizers, due to its toxic effects. The dangers are especially high when methanol is an unlisted ingredient (in other words, when it is not named outright on a product label, as is the case with the currently recalled hand sanitizers), and this has resulted in confirmed deaths in the past from people ingesting hand sanitizers containing unlisted methanol.3
IS YOUR SANITIZER ON THE RECALL LIST?
The recalled products were distributed by several companies and sold under dozens of different brand names. Because the number of methanol-containing hand sanitizers is growing, please check the FDA's ongoing list of recalled brands by going to their website here.
WHAT TO DO IF YOU HAVE A RECALLED PRODUCT
Anyone currently in possession of a hand sanitizer product in the recall list on the FDA's website is advised by the FDA to stop using it and dispose of it in hazardous waste containers. Do not pour the recalled products down the drain or flush them down the toilet, as this may leach toxic methanol back into the environment (including rivers and oceans) where it can potentially harm or kill wildlife and humans.
Methanol.org states that signs of methanol poisoning may show up 1 to 72 hours after exposure, and may present as the following:
Neurological symptoms include drowsiness, headache, confusion, amnesia, dizziness, acute mania, a lack of coordination of muscle movements, agitation, seizure, and decreased level of consciousness (central nervous system depression)
Gastrointestinal symptoms include severe abdominal pain, diarrhea, nausea, vomiting, bleeding, and a lack of appetite.
Eye-related symptoms include visual disturbances or hallucinations, sensitivity to light, blurred vision, and partial to total loss of vision.
IF YOU ARE EXPERIENCING SYMPTOMS
The FDA's investigation into methanol-containing hand sanitizers is ongoing, and therefore the list of contaminated products is incomplete.5 If your hand sanitizer is not on the recall list but you have experienced an adverse reaction, or if you suspect your child has ingested hand sanitizer, please seek medical care immediately to reverse any toxic effects. You may also call the National Poison Control Center Hotline at 1-800-222-1222. 
To report a product that you suspect contains methanol due to experiencing an adverse reaction, please contact the FDA via its MedWatch program by filling out this online form.6 In a press release,7 the FDA also released the following statement: "Consumers, manufacturers or distributors who have questions for the FDA regarding hand sanitizers should email: COVID-19-Hand-Sanitizers@fda.hhs.gov."
HOW MUCH METHANOL IS IN THESE SANITIZERS?
The FDA stresses that no amount of methanol is safe in hand sanitizers. All of the companies on the official recall list contained varying amounts of methanol. For example, when tested by the FDA, one brand of the recalled hand sanitizers contained 81% methanol, which is extremely high and potentially lethal if ingested, inhaled, or absorbed through the skin.
In addition, some of these recalled sanitizers contain no ethyl alcohol, which is the most common (and safe) base for hand sanitizers. The entire line of Rx Cleanse hand sanitizers contains 70% ethyl alcohol, which is approved by the FDA and recommended by the CDC (Centers for Disease Control & Prevention) as a safe and effective ingredient in hand sanitizers due to its antimicrobial activity.4  Rx Cleanse hand sanitizers contain 0% methanol, and their ethyl alcohol base is USP (Pharmaceutical) grade that has been refined through an 8-phase filtration process to remove methanol and other dangerous impurities.
ARE REGULAR HAND SANITIZERS SAFE?
While hand sanitizer is safe for everyday use, it can cause alcohol poisoning if swallowed in several mouthfuls. Hand sanitizer is for topical use only, and may not be ingested. Regardless of methanol content, the FDA urges consumers to be aware of the following:
The dangers of drinking any hand sanitizer under any conditions. While hand sanitizers with possible methanol contamination are more life-threatening than those that are not contaminated, FDA urges consumers not to drink any of these products.

Certain hand sanitizers that may not contain a sufficient amount of ethyl alcohol or isopropyl alcohol.

Hand sanitizers that are sold or offered for sale with false and misleading, unproven claims that they can prevent the spread of viruses such as COVID-19, including claims that they can provide prolonged protection (e.g., for up to 24-hours).

Products that are fraudulently marketed as "FDA-approved" since there are no hand sanitizers approved by FDA.

Products packaged to appear as drinks, candy or liquor bottles, as well as products marketed as drinks or cocktails because their appearance could result in accidental ingestion or encourage ingestion. Children are particularly at risk with these products since ingesting only a small amount of hand sanitizer may be lethal in a young child.

4
WHY WAS METHANOL USED IN THESE SANITIZERS?
It is unknown exactly why companies included methanol in their hand sanitizers, but it may be due to cost saving measures, as methanol is much more affordable than the safe & effective alcohols approved by the FDA, such as the ethyl alcohol used in Rx Cleanse hand sanitizers. As stated by FDA commissioner Stephen Hahn, "Unfortunately, there are some companies taking advantage of the increased usage of hand sanitizer during the coronavirus pandemic and putting lives at risk by selling products with dangerous and unacceptable ingredients."2
DOES METHANOL CURE COVID-19, AKA CORONAVIRUS?
There is no known cure for the SARS-CoV-2 responsible for COVID (AKA the novel Coronavirus). Ingesting methanol or using it as a hand sanitizer will not cure COVID, but may instead lead to serious harm or even death. Methanol is not recommended by any government agency as a curative agent against COVID or any other ailment. Methanol is a toxic industrial chemical and should never be consumed or applied to the skin.
Several confirmed deaths have already occurred due to methanol poisoning. Do not ingest, inhale, or otherwise use methanol to treat any ailment, or as a household cleaning product. Methanol is not a safe substitute for higher-grade alcohol.
DOES RxCLEANSE CONTAIN METHANOL?
No. All Rx Cleanse hand sanitizers use a base of 70% ethyl alcohol, which has been deemed safe and effective by the FDA and CDC. In addition, our ethyl alcohol has undergone an 8-phase filtration process to remove any impurities, including methanol and other carcinogens. Our ethyl alcohol is USP grade, which means it is safe for topical use, including as an ingredient in hand sanitizer.
The methanol in the FDA's list of recalled products was likely fuel-grade, which is never approved for human consumption. Rx Cleanse uses only Pharmaceutical-grade USP ethyl alcohol, which is ultra-refined, tested for purity, and meets the rigorous industry standards for safety. Rx Cleanse's ethyl alcohol is safe for human use and approved as an effective ingredient in hand sanitizers.
THE Rx CLEANSE DIFFERENCE
In addition to using only safe & effective ethyl alcohol, Rx Cleanse hand sanitizers are manufactured in the USA, in an FDA registered & monitored facility that operates under an OTC license (meaning we are approved to make over-the-counter pharmaceutical-grade products).
The methanol-containing hand sanitizers that were recalled by the FDA appear to have been rushed to the market in order to make a quick profit during a pandemic. Unlike these manufacturers, our goal at Rx Cleanse is to make high quality, safe, time-tested products that the entire family can use. We are an American company that manufactures all its products in the USA, and we have in-house quality control measures to ensure top consumer safety.
Premium antibacterial hand sanitizer gel, enhanced with moisturizing aloe vera, naturally antiseptic tea tree oil, and lightly scented with peppermint oil.
Made with 70% (non-toxic) Ethyl Alcohol - Above CDC Minimum Requirements to Help Eliminate Germs, Bacteria, and other Viral Pathogens, including SARS-CoV-2.
---
Premium antibacterial hand sanitizer gel, enhanced with moisturizing aloe vera, naturally antiseptic tea tree oil, and lightly scented with peppermint oil.
Made with 70% (non-toxic) Ethyl Alcohol - Above CDC Minimum Requirements to Help Eliminate Germs, Bacteria, and other Viral Pathogens, including SARS-CoV-2.
---
Premium antibacterial hand sanitizer gel, enhanced with moisturizing aloe vera, naturally antiseptic tea tree oil, and lightly scented with peppermint oil.
Made with 70% (non-toxic) Ethyl Alcohol - Above CDC Minimum Requirements to Help Eliminate Germs, Bacteria, and other Viral Pathogens, including SARS-CoV-2.
---
Premium antibacterial hand sanitizer gel, enhanced with moisturizing aloe vera, naturally antiseptic tea tree oil, and lightly scented with peppermint oil.
Made with 70% (non-toxic) Ethyl Alcohol - Above CDC Minimum Requirements to Help Eliminate Germs, Bacteria, and other Viral Pathogens, including SARS-CoV-2.
---
FUEL-GRADE vs. FOOD GRADE ALCOHOL
In addition to methanol, it's important that your hand sanitizer does not contain fuel-grade alcohol. Because people are driving much less than usual due to the Coronavirus pandemic, some companies have excess stores of fuel-grade alcohol in their warehouses that would otherwise be used to make fuel. It is possible that some of these excess stores are being used in the manufacture of hand sanitizer instead, even though they contain traces of toxic methanol, which can lead to serious health problems after prolonged exposure. In other words, alcohol that is usually used to make gasoline is instead being used to manufacture hand sanitizer, and this is potentially dangerous to human health.
As you can see in the infographic below, fuel-grade alcohol is NOT refined, NOT tested for purity, NOT authorized for topical use, NOT filtered to reduce carcinogenic compounds (including methanol), and NOT safe for personal use.
Odor is the easiest way to detect fuel-grade alcohol. Does your hand sanitizer smell like tequila, rotten garlic, or sour onions? You might be dealing with a fuel-grade alcohol. Rx Cleanse hand sanitizers use only pharmaceutical-grade (USP) ethyl alcohol that is safe, highly-filtered, effective, tested for purity, ultra-refined, and industry-approved for topical use.
Also known as Food Grade, USP grade is the industry standard for safe food and drug ingredients. In general, USP refers to the United States Pharmacopeia, a large scientific organization that conveys legally-recognized quality standards of safety and dosage for pharmaceutical products and nutritional supplements. For something to be considered USP Grade, it must meet the rigorous standards set forth by the most recent food & drug laws of the United States.9 USP Grade products meet or exceed the standards set forth for food, drug, or medicinal use.10 
Rx Cleanse hand sanitizers use a 70% base of USP-certified ethyl alcohol, which means it has been tested and verified for purity, has a neutral odor, and is safe for human use. Although the ethyl alcohol in our products is food-grade (meaning the alcohol is safe enough for human consumption), hand sanitizer should never be ingested. We use food-grade (AKA USP-Grade) ethyl alcohol for its high purity, but our hand sanitizers are strictly intended for topical use. In other words, we use only food-grade alcohol as the base for our Rx Cleanse hand sanitizers to ensure maximum safety for your entire family.
---