16 Ounce Bottle Antibacterial Hand Sanitizer
RxCleanse Sanitizing Hand Gel

Enhanced with Moisturizing Aloe, Antibacterial Tea Tree Oil, and Refreshing Peppermint Oil, Leaving Your Skin Clean and Smooth.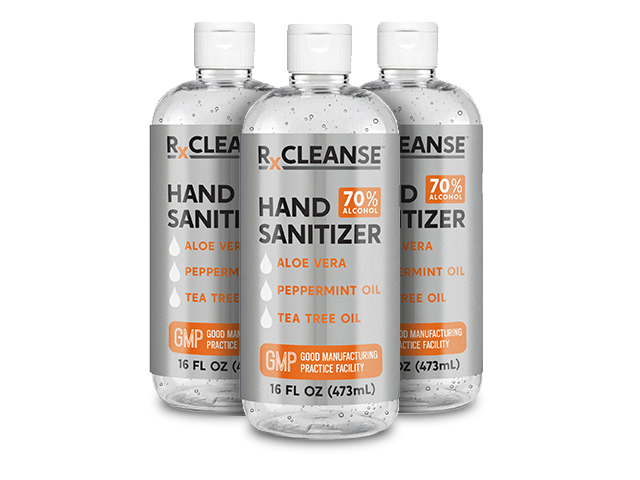 Ethanol (Ethyl Alcohol) is a natural byproduct of a plant fermentation process, and is effective in killing microorganisms like bacteria, fungi and viruses.
Aloe Vera extract is 99.5% water, and contains nearly 20 amino acids and minerals that contribute to healthy, hydrated, youthful looking skin.
We've added Tea Tree and Peppermint oils, which both have potent antibacterial, antiseptic, and inflammatory properties, they also smell great!
16 Ounce Bottle Antibacterial Hand Sanitizer
Premium antibacterial hand sanitizer gel, enhanced with moisturizing aloe vera, naturally antiseptic tea tree oil, and lightly scented with peppermint oil.
Made with 70% (non-toxic) Ethyl Alcohol - Above CDC Minimum Requirements to Help Eliminate Germs, Bacteria, and other Viral Pathogens, including SARS-CoV-2.
Apply a quarter sized portion in your palm, and gently lather throughout entire surface of your hands, between fingers, and back of hand, do not wipe off excess gel, allow to dry fully.
water (aqua), glycerin, carbomer, triethanolamine, aloe barbadensis leaf juice, peppermint oil, tea tree oil.






NO: Dyes, Synthetic Fragrances, Parabens, Triclosan, Benzalkonium Chloride, or Methylisothiazolinone
Soft on Hands, Tough on Germs.